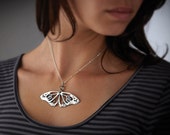 Andrea's sterling silver Butterfly Wing Pendant, available in her ETSY SHOP.
In the town where I grew up, things seemed drab and ordinary to my girlish eyes. Drugstores, liquor stores, florists, the old A&P on Washington Avenue. A trip to the Dumont post office might prove interesting, with those brassy P.O. boxes and the slot for out-of-town mail. But you pretty much had to go to Bergenfield to eat out [except for the Frontier Room]. And I walked to a salon in Bergenfield the first time I had my eyebrows plucked.
Little did I know there was a jeweler in my midst. A man who delivered sparkle, shine, craftmanship and style. I wasn't tuned in enough [nor did I have the fashion sense or money in hand] to check out his tiny metalsmith's shop on Madison Avenue, caddy-corner from H & H Stationery and not far from Uncle Frank's Pizza and Denaro's sub shop. But my mother pointed it out to me as we drove around town in the little green Datsun. It was called
Aniello
, after the artist. He made gold and silver pieces. I knew of his wife, Sue, from church; his son, John, who was I think a year ahead of me at Dumont High School; and his daughter, Andrea, probably a year behind me.
Years ago, I saw my high school friend Ann Joyce, and she was wearing some beautiful jewelry. She told me Andrea Schettino had made it.
My point is, I wish I had known about her and her Dad's vision and grace long before now. By that I mean, I wish I had seen and touched the silver.
Tonight, Andrea was at the Montclair Art Museum for its monthly First Thursday Night, open to the public. We've been following each other's work, and Andrea let me know she'd be in town from 5 to 9. I made it by 8:45, in time to catch up with her and buy a pretty silver heart pendant on light tan cord with an old-time button closure, really easy to secure. [My rule for jewelry is that it has to be simple for me to get on and off, or I won't wear it. Don't want to rely on someone's help to close the clasp.]
But the story gets sweeter....Andrea loves baking. Her blog has beautiful posts showing buttery hearts, jam-filled drop cookies, homespun gingerbread. She's a gifted photographer and artist in the kitchen. Apparently, she doesn't just work wonders with silver and stones but also with doughs and drizzles and bright jammy fillings.
Take a recipe card,
she said to me tonight.
A recipe card! What?!
Yes, Andrea had two beautiful recipes placed among the earrings and necklaces, one for Handmade Gingerbread Cookies, one for Ruth's Butter Cookies. You have to check her
BLOG
! Incredible and stylish. And in the Etsy shop, see the Crown Ring. I hope to buy one some day. Really lovely. Make that dreamy and lovely.
Good night, Andrea. I thank you for the gift of shine and the two keepsake cookies to try in my Christmas kitchen.
TCOY
Walked to and from town today [50 minutes] for appts.
Private Benjamin.
Connected with Andrea and her kindness and talent.
Farmhouse Butternut Squash Soup.